New genetic variant of existing dengue virus identified in south India
page info
Name

KOICID

Date

17-11-02 12:12 Hit3,192 Comment0
Contents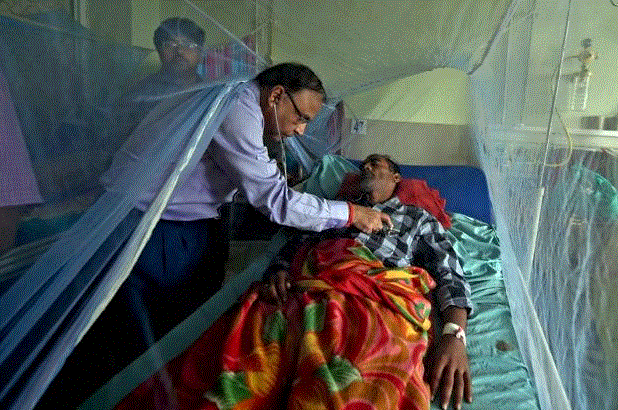 New Delhi: Scientists at the National Institute of Virology (NIV) in Pune have identified a new genetic variant of the existing dengue virus in south India.
The findings were published in a research paper, Emergence of the Asian genotype of DENV-1 in South India, in the peer-reviewed journal Virology this month, reported Times of India on Wednesday.
The scientists said that the new virus type was responsible for outbreaks in Tamil Nadu in 2012 and Kerala in 2013. According to the World Health Organization (WHO), there are four distinct serotypes (DENV-1, DENV-2, DENV-3 and DENV-4) of dengue virus (DENV). Distinct genotypes (genetic structures) have been identified within each serotype.
The new Asian genotype of DENV-1 was found in virus isolates drawn from blood samples of dengue-infected patients in southern India, the scientists said.
"A large outbreak of dengue occurred in Tamil Nadu, South India in 2012 with 12,000 cases. Molecular characterization of virus present in the sera (strain) of dengue patients was undertaken to determine if there were changes in the virus population. All four serotypes were circulating but DENV-1 was dominant, present in 52% of the serotyped (collected strains) samples," said the study, done by Dengue Group, Indian Council of Medical Research (ICMR)-National Institute of Virology, ICMR-NIV Kerala Unit and Christian Medical College, Vellore, Tamil Nadu.
Further, the study stated that the genotype of only DENV-1 had changed; the Asian genotype had displaced the American/African. Phylogenetic analysis revealed that the Asian genotype was introduced from Singapore and shared 99% similarity with viruses associated with large outbreaks in Singapore and Sri Lanka.
"We have reported for the first time the emergence of the Asian genotype of DENV-1 in southern India causing an extensive and severe outbreak. The study proves how movement of DENV can affect dengue outbreaks and underscores the need for close molecular monitoring of DENV," stated the study.
The scientists also studied the genetic makeup of the virus in Maharashtra and Delhi during the same period but they claimed that they didn't observe any change in the genotypes of the four dengue virus types.
During the study, the scientists found that the Asian (GI) genotype of DENV-1 has entered India from Singapore.
As currently known, the African American genotype of dengue virus is widely circulated in India. Though the identification of the Asian variant requires further study to understand its role in the recurrent dengue outbreaks in the country, it is too early to say that the Asian genotype has replaced the African-American genotype, scientists said.
​
First Published: Wed, Nov 01 2017. 03 20 PM IST
Comments List
No Comments.